Why Do I Need a Forklift License? 
When it comes to operating a forklift, you must have the relevant licenses in place to ensure you are doing so legally. Indeed, holding a forklift license is vital – and with this in mind, you may want to consider the following points to ensure that you are taking the best steps to get your forklift license.
Officially speaking, there is no such thing as a forklift license. However, that is not to say that just anyone can drive and operate a forklift; in fact, you will still need to prove your skills and abilities before you can begin legally driving a forklift. This is a legal requirement for all forklift operators, and it is illegal for businesses to request that an untrained member of staff drives a forklift. 
Once you have undergone forklift training, you will be legally allowed to drive and operate a forklift machine. Upon completing the training, you will be provided with an RTITB-recognised certificate demonstrating your competency in operating a forklift.
Where are Forklifts Used? 
There is a wide variety of different applications for forklift machines, and as such, these tools are used in many job roles and businesses. Not only are forklifts commonplace within warehouse environments, where operators use the forklift to move pallets or products quickly, but they also have many other roles, including in airports, depots, yards, farms, and so on.
How to Get your Forklift License
Getting your forklift license doesn't need to be complicated – however, you will need to undergo training initially to do so. Once you have completed the forklift training, you will be provided with a certificate proving your skill and legal ability to operate a forklift.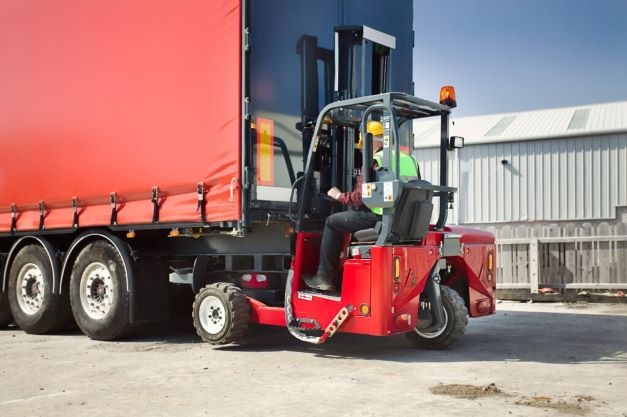 The Different Types of Forklift Training
Many different types of forklift training are available, and you should carefully consider these to make sure that your chosen forklift training program covers the kind of forklift you'll be operating.  Some of the different options for forklift training include the following:
As you can likely see from the above list of forklift training programs, the type of forklift training you must undertake before you can begin legally operating a forklift will generally depend on two factors. First, you'll need to consider the type of forklift you are operating (for example, pedestrian pallet truck forklift training). Moreover, in some instances, you may also need to think about the terrain or conditions you will be using the forklift in (for example, rough terrain forklift training).
Eligibility for Forklift Training 
To be eligible for forklift training, you need to be over seventeen years of age and legally safe to operate a vehicle. With that being said, you do not need to hold a driving license to learn how to drive a forklift safely.
Of course, as we've pointed out, you should be legally safe to operate a vehicle to apply for forklift training. With this in mind, you must have an excellent vision to allow any dangers to be identified. If you need to use corrective lenses to achieve an adequate quality of vision, that's usually fine. Furthermore, most employers will require that staff demonstrate several core competencies to operate a forklift before enrolling their staff members on a forklift training course. These competencies may include good spatial awareness and attention to detail, alertness, ability to work with others, health and safety knowledge, and practical communication abilities. 
These skills may prove vital in situations that could otherwise be dangerous. A critical example of this might be if another member of staff or a customer was to walk too close to the forklift while you are operating it. Being able to respond quickly and safely in situations such as these could be the difference between the working environment remaining safe or someone getting hurt while at work.
Do Forklift Training Certificates Expire?
At present, there is no expiry for forklift training certificates. This fact means that, once you have earned your forklift training certificate, you'll hold it for life – however, it's often advisable that you undergo a refresher course every few years to ensure you're on track. This is completely optional, though, meaning that you can attend a refresher course as regularly, or infrequently, as you would like.
Can I Undergo Forklift Training Privately?
Your employer may offer for you to undergo forklift training. If they don't provide this, you can undergo training privately, but there may be significant costs associated with doing so. As such, before undergoing private forklift training, it may be worth asking whether the expense will justify the rewards; if your employer hasn't offered training to you, they may not have any roles available for forklift operators at the time.
Are You Ready To Start Your Forklift Training 
Before you can legally operate a forklift, you will need to hold a forklift license. Fortunately, getting a forklift license doesn't need to be a significant headache. In fact, with the proper training, you can quickly obtain the necessary forklift license certifications to begin driving these exceptionally versatile and useful machines. In turn, this could also open up numerous opportunities and skills for you, both in your personal and working life- so it's well worth considering for your own needs. If you would like to discuss forklift training, contact NTT Forklift training today.